Mars WiFi – Free WiFi HotSpot
WPA WPS Tester Android app is one of the hottest WiFi password hacker instruments, which was developed with an intention to scan the WiFi networks for vulnerabilities. This notorious hacking app is thought for its capability to breaking the security. This app tests the connection to Access Points with WPS PIN, which are calculated using numerous algorithms like Zhao, Blink, Asus, Arris, etc. acking WiFi networks is a vital a part of studying the subtleties of ethical hacking and penetration testing. This also offers rise to the need for some quality WiFi hacking apps for Android to check your community safety.
The developer's intention for making this app was to scan the weaknesses discovered in the Wi-Fi Networks. It has now grown into a popular and finest WiFi hacker app for Android with out root. Aircrack-ng is essentially the most dependable and trusted app by many Hackers. This app can be obtainable on the Ubuntu platform and is widely used by Wi-Fi hackers throughout the globe.
WEP and WPA are the 2 major security protocols used in Wi-Fi LAN. WEP is named Wired Equivalent Privacy (WEP). It is a deprecated safety protocol which was introduced again in 1997 as a part of original 802.11 requirements. But it was weak, and a number of other severe weak spot have been found within the protocol.
These instruments can both take advantage of WEP weaknesses or use bruteforce attacks on WPA/WPA2. I am sure now you realize that you must by no means use WEP safety. People also use wireless in their house community to connect all devices. Every person can see the neighborhood wi-fi networks in the system, and they wish to use it at no cost.
Its design is so easy, and that's the factor behind the sleek functioning of the app. The app helps many languages and can have the ability to detect whatever gadget is related to your Network whether it is a TV, laptop computer, Mobile, PS, XBOX, etc. dSploit. You usually are not required to root Android to be able to use this app to hack Android WiFi, however you can root your cellphone to unlock more functions of the app. And with root entry to the Android smartphone, Wi-Fi Inspect can shortly allow you to crack into any network.
Another option on the PC utilizing the command line is Airgeddon. The WiFi WPS WPA tester was developed by Saniorgl SRL. The app is available within the Google Play Store, making it some of the famous WiFi Hacking Apps on the earth.
Like WiFi WPA WPS Tester, you get more options on rooted telephones as compared to non-rooted ones. This app helps in scanning networks for finding ports and system details identical to dSploit. One of which can be used to sniff the network and monitor what is occurring in the network. These are the popular tools used for wireless password cracking and network troubleshooting.
Wi-Fi Crack permits you to crack any wireless network with WEP security. After choosing the desired wireless interface and community, Wi-Fi Crack launches highly effective command-line tools to seize wi-fi packets and obtain the WEP password.
zANTI is a cellular penetration testing Hacking toolkit for android that lets you find out the amount of vulnerability of your WIFI community. Aircrack-ng—labeled as a "set of tools for auditing wireless networks," so it ought to be a part of any network admin's toolkit—will take on cracking WEP and WPA-PSK keys. To crack a network you need to have the proper of Wi-Fi adapter in your laptop, one that supports packet injection.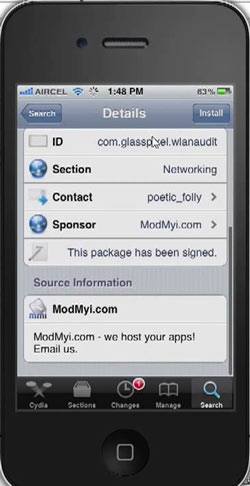 It is used by ethical Hackers for network exploitation and Finding Vulnerability. One of its benefits is that it works on each rooted and non-rooted telephones.
Aircrack-ng for Windows
Before shifting on, let's discuss why do you should hack a Wi-Fi. To satisfy our requirement of a excessive-velocity internet connection and that too with out paying the worth. However, due to the improve in hacking activities, firms who manufacture routers have increased their gadget's security protocol which prevents hacking the routers just by utilizing easy tools. In this article, we will talk about the top 9 apps which is able to enable you to gain free entry to the close by network and luxuriate in free Wi-Fi using solely your Android gadget.
Compared to wired networks, WiFi networks pose an additional safety challenge as their indicators are accessible by the general public. Different security measures like WPA2 can encrypt visitors, however there are strategies that have the ability to tamper your security. So, it's essential to hold using totally different instruments and methods to make sure your WiFi security. You can also read these tips to secure your house WiFi router and take care of the hacking attempts. Nmap is a network security scanner that is out there for numerous operating systems.
This notorious hacking app is thought for its capacity to breaking the safety.
This app checks the connection to Access Points with WPS PIN, which are calculated utilizing varied algorithms like Zhao, Blink, Asus, Arris, and so on.
WPA WPS Tester Android app is one of the hottest WiFi password hacker instruments, which was developed with an intention to scan the WiFi networks for vulnerabilities.
You need to be comfortable with the command line and have a lot of endurance. Your Wi-Fi adapter and Aircrack have to assemble a lot of data to get wherever near decrypting the passkey on the community you are focusing on. Here's a how-to on doing it utilizing Aircrack put in on Kali Linux.
As I already mentioned, you must never use the WEP encryption key in your house or wireless community. With available instruments, it is youngster's play to crack the WEP keys and access your wi-fi network. Hacking Wi-Fi over WPS can be possible with some tools on Android, which solely work if the Android device has been rooted. Check out Wifi WPS WPA Tester, Reaver for Android, or Kali Linux Nethunter as choices.
You must know this safety key to entry the community. When your personal network is down, you'll desperately want to join to these neighborhood networks. For this, people generally search for wi-fi password cracking instruments to get unauthorized access to these wireless networks.
The above collection also contains these tools which try a dictionary assault to crack wi-fi passwords to let you get free Internet access. Hacking wireless networks to get unauthorized access may be against the law in your nation.
Just like WiFi WPA WPS Tester, dSploit was additionally developed particularly for locating out Vulnerabilities within the Wi-Fi Networks; in simple to grasp words, it's a WIFI penetration testing tool. It also helps in analyzing and controlling your network and all other kinds of info which may be in your network. Apart from having the ability to hack other folks's WIFI networks, the app additionally helps in controlling and taking care of the devices which might be related to the same Wi-Fi community.
You can also load exterior configuration file to check some vulnerabilities. Fing Network Tools, just like zANTI helps in finding out and analyzing more about your network. It helps you find out what all units are connected to your WiFi community in just a matter of a few seconds. Fing is a professional App for community evaluation and is utilized by Security Analysts and all kinds of Hackers and at all ranges. A simple, fluid, and intuitive interface helps you consider safety levels on your WIFI and then detect intruders or attackers and finally block them or resolve your community issues.
Commview for WiFi
If you encounter errors launching AirCrack-NG, then set up it using MacPorts. If you want to hack WiFi password, then this information would be of great assist for you. The reality is, getting the WiFi community login details of your neighbors means free web and access to many services. There are many WiFi hacker online tools to hack WiFi passwords on-line.
The app was designed and ported by Android Developers and Enthusiasts at XDA Developers. While Router Keygen isn't exactly a WiFi hacker software for Android phones. Still, you can use it to test the integrity of a wi-fi router and see if the device is utilizing a default key. The app scans all WiFi networks within the range and exams a number of potential default passwords that are publicly available.
It's free and comes with all of the instruments you'd need to crack a network. It even now comes as an app for Windows 10 within the Windows App Store! If you are only after a Wi-Fi network, the Wifislax distro is a Live CD targets them immediately.
Kali Linux is a Linux distribution built for just that purpose. You can run Kali Linux off a CD or USB key with out even installing it to your PC's hard drive.
So, a new type of security protocol was launched in 2003. Now it's the current security protocol used in wireless networks. To get unauthorized entry to a network, one must crack these security protocols.
Few notable instruments are Zanti, WPS Connect, aircrack-ng, Shark for Root etc. WiFinspect was developed for the mobile security professionals who wish to monitor the networks round.
Moreover, attempting out every software is a bit tiresome. Being a WiFi password hacker means you require the most effective software that can hack nearly any WiFi going by way of all the security obstacles.